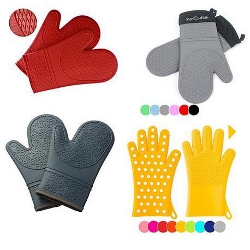 The newest versions of oven mitts barely resemble the potholders of yesteryear. Modern silicone oven mitts benefit from space age materials and the most advanced manufacturing and design technology available.
Silicone oven mitts, which come in a variety of vibrant colors, as well as grey and black, are impervious to water, resistant to stains and odors and have insulation that helps make them more heat resistant than other materials.
Keeping silicone oven mitts clean is easy. Most can be popped into the dishwasher, which not only cleans them, but also sanitizes them. Those that cannot be put in the dishwasher can be kept clean by rinsing them in the sink in hot, soapy water.
Before you buy an oven mitt – have a fit
Every bit as important as the size of your mitts are the lengths of your mitts, which can range from short ones beginning about 11 inches to extra long ones measuring 17 inches. The length you need depends on the use.
Longer ones provide more coverage and thus greater protection from hot ovens and grills and could even help handle snapping pets or other biting critters.
If you can't stand the heat, don't stay out of the kitchen
You don't need to stay out of the kitchen to avoid the heat, as various silicone oven mitts can resist temperatures from -40 degrees F to 425, 600 degrees F and even higher. Some silicone oven mitts provide extra thickness in between fingers and on the palms of hands for additional protection. Often mitts are lined with cotton fabric for comfort and added heat resistance.
Beyond the demands of an average kitchen, oven mitts made of special heat resistant materials such as Kevlar, Aramid and Nomex have the highest heat ratings.  These mitts are rated heat resistant to 932 degrees F. They could be used for the tough jobs, such as lifting hot meat or even rearranging logs in a fireplace or campfire.
Some are used with welding jobs. One type is designed for an unusual use: helping those who suffer from arthritic hands.
Are you the right type for your mitts?
Silicone oven mitts could talk, you could ask them that question, but it's not going to happen unless this is a cartoon and the mitt's a square yellow sponge. So, let's discover the multitude of diverse types and shape shifting that silicone oven mitts have undergone since they've come onto the market.
The two most common shapes are those that are like winter gloves and mittens. One has separate spaces for all fingers and the thumb, and the other separates only the thumb, while the others hang out together in the larger space.
However, there is a sub-type of the mitten that tucks a cotton glove within the large part that separates the fingers inside the silicone oven mitt.
Many of the mitts come with a loop to store them; a few come with a sewn-in magnet to hang from a metal refrigerator or grill, for instance. These types of silicone oven mitts are versatile and can effortlessly protect hands and arms from ovens and grills.
There are some less usual choices, also. One PacMan type features two small silicone cups hinged together that fold over the tips of the fingers on one side and the thumb on the opposing side: pinch grabber grips. They might be small and easy to store, but they're not as protective as the glove or mitten type. They're best used for holding a warm spoon to stir or to use a couple of them to get a warm dish out of the microwave.
Another type of silicone oven mitts is partway between the full length type and the "alligator grips." It looks like the back part of the gloves have been cut off, but the remaining sections for fingers, thumb and palm are linked together, sometimes with reinforced areas for better heat resistance, as they are not lined. These three types are not recommended for use with an oven or grill or smoker, as there is no protection for your forearms.
The gripping solution
Besides heat resistance, the other essential characteristic of silicone oven mitts is their gripping ability. To provide grip, the surfaces of the fingers and palm and sometimes the entire glove are texturized, often with decorative geometric designs or dots.
Choose the one that pleases you, but be sure that the silicone oven mitts that you choose have some kind of gripping surface.
But wait, there's more…
A few companies back their products with an amazing 100% satisfaction or your money back for your new silicone mitts. Other companies offer free bonuses with your silicone oven mitts order. You could score a cookbook, ebook or paper, some tongs, extra mini grips, a spatula or grill or sauce brush. There may even be a BOGO (buy one, get one for free). It's a shopper's buffet of bonuses!